Collage art - collage creator for Android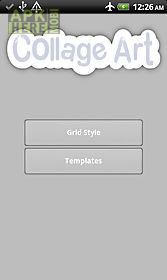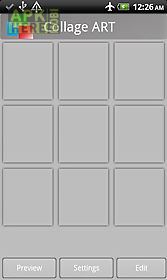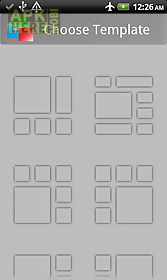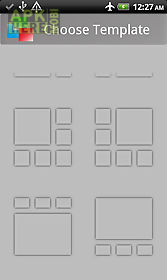 Collage art - collage creator app for android description: Arrange your photos in collages in grid with positions you want them in a simple and fun way with collage art.
Collage art gives you freedom to arrange your photos in the way you want it gives you control over grid background borderless collages and with amazing select go ui.
Features: templates based grids static grid up to 3x3 high resolution images support.
(1600x1200) built in album based gallery.
Transparent and color background support.
Rotation flips in edit mode.
Up to 3 columns in a grid.
Image save to sdcard in collageart directory.
Quick instructions: start by choosing either grid based collage or pre build templates fill in the provided grid your desired image by clicking them.
Click preview and your collage is ready.
If you want to flip rotate click edit select any grid item and apply your desired action.
Click 39 ok 39 icon on the left.
Press done.
If you encounter any bug please let us know by emailing or reporting the issue we can not reply back to the comments.
Permissions: read phone state: the permission is required by mobclix to properly deliver ads please note this application does not collect any private information whatsoever.
Tag: photo grid photo album photo thumbnail photowall photo editor photo wallapaer photo lab collage art.
Art collages grid.

Related Apps to Collage art - collage creator