Christmas tree for go launcher for Android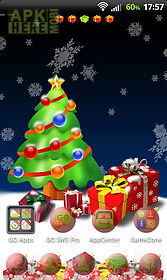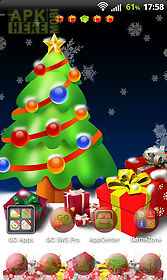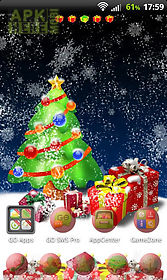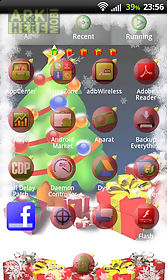 Christmas tree for go launcher app for android description: Nowadays christmas is something obvious for everyone it 39 s everywhere months before it 39 s date.
It wasn 39 t always like that though.
Did you know that till early years of xix century there was no real santa claus? Now every children and adult on this planet knows how he should look like.
Nice old man with white hair and beard wearing red clothes and hat always smiling and a little bit chubby with his reindeer and huge bag of presents.
We already can happily celebrate the most awesome holidays in whole year.
If you too like this time of overflowing cheeriness and kindness that 39 s theme exactly for you.
Let christmas spirit into your phone and share your good mood with the world.
Even before those holidays.
Before snow.
Before winter solstice.
Before santas standing on the streets.
You can have you own prolonged xmas right on your phone.
With this warm pretty colored theme with christmas tree and gifts under it you will always remember about your friends and family.
You 39 ll be able to feel all of those kind emotions and you won 39 t forget about buying presents either!
How to set our theme as default: back to launcher home screen press hardware menu button on your device on slide vertically to top on screen press themes button slide horizontally or press installed tab tap view of our theme click apply button enjoy : )support pack of themes : if you need help with our theme please contact with us on email: packofthemes our support works only in the english language.
Please contact us in this language because we will solve your problem easier.

Related Apps to Christmas tree for go launcher