Body assessment for Android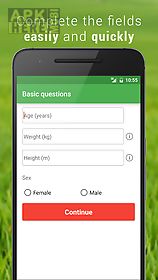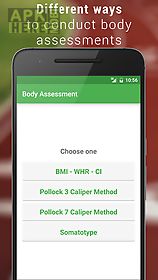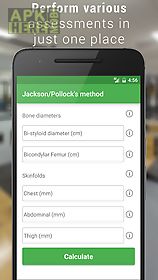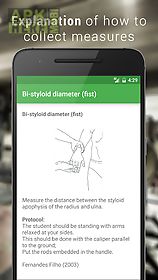 Body assessment app for android description: This application was developed to perform physical assessments through methodologies widely used by professionals in the field of physical education.
It has an intuitive interface containing explanatory texts and images indicative.
The main objective is to make it a tool that can assist professionals in this area.
Regard such assessments as: body mass index (bmi) waist and hip ratio (whr) conicity index(ci) fat percentage fat weight lean mass bone weight residual weight muscle weight endomorphy mesomorphy ectomorphy.
Application developed by student gabriel santiago de carvalho under professor m.
Sc.
Vinicius de araujo maeda and co supervision of professor m.
Sc.
Pablo teixeira salom o federal institute of mato grosso do sul aquidauana campus.
This project was developed under encouragement cnpq through the scholarship institutional program for initiation in technological development and innovation (pibiti).

Related Apps to Body assessment