Blood pressure for Android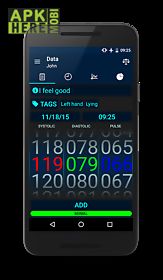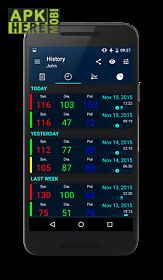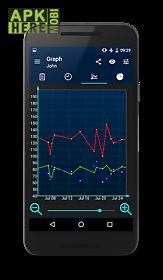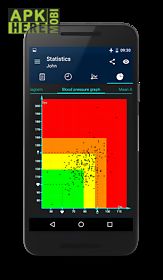 Blood pressure app for android description: This application helps you controll blood pressure with multiple build in features like measurements analysis statistics graphs ability to export your data and much more!
It also generates ancillary information necessary for the proper treatment of arterial hypertension which you can directly send to your doctor on the automatically generated reports.
Key features: very easy to use user interface save edit or update you measurement describe your records: tags write short descriptions and use them repeatedly date and time of bp measurement the values (systolic diastolic pulse and weight) description support for multiple users.
Interactive charts statistics and blood pressure factors map mean arterial pressure pp pulse pressure 24h average blood pressure chart and much more!
Export data: csv xml pdf detailed reports screenshots reminders filters unlimited possibilities in your hand.
Decide what data the application will show analyze or export!
Appearance customize the appearance of the application to your needs light and dark theme customizable colors for values of systolic diastolic pulse and weight.
Especially useful for color blind users categories: jnc7 jnc8 esh esc isolated hypertension hypotension native android app backup support automatic backups to google drivevisit support page with more detailed instructions (page translation is available in the lower right corner of the screen): helphowever remember that you still need to have a pressure gauge in order to read the values of blood pressure.
In addition this application does not replace professional medical advice!

Related Apps to Blood pressure