Best car sounds free for Android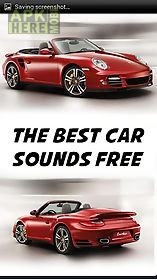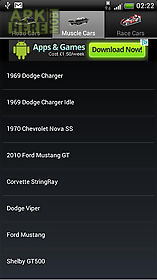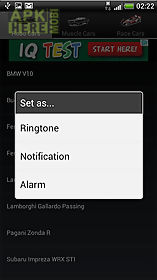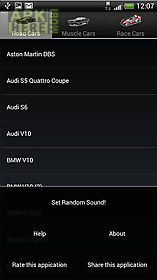 Best car sounds free app for android description: A must have for any car fans...
Do you love the sounds of a v8 or v10 or v12 at full throttle? This application lets you listen to over 50 of the most exotic and expensive road cars race cars and muscle cars in the world.
Also why not test your friends and see how many sounds they can identify...
Plus you can enjoy your favourite sound clip as your notification or ring tone or your alarm.
Can t decide what sound you want as your ringtone notification or alarm? Why not try the random sound setter under the menu options!
Here is a very small selection of the cars included in this app.
Upgrade to get 50 more great sounds and remove ads!
Bugatti veyronlamborghi gallardoaudi s1 sport quattro mitsubishi lancer evo rs turbo2010 ford mustang gt long press on any clip to set as notification or ring tone don 39 t forget to rate the app and tell me what you think.
Any suggestion for added car sounds would also be much appreciated!
Disclaimerthe content of this app is copyright of its rightful owner.
I do not own any of the sounds used in this soundboard.
Revenue from this app pays for development time and costs.

Related Apps to Best car sounds free