Beauty pedicure nail art salon for Android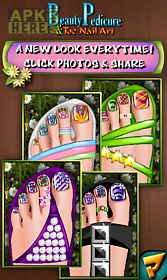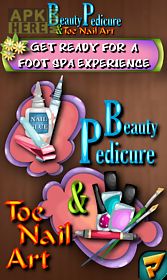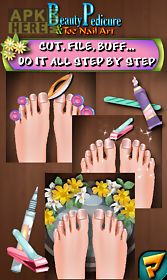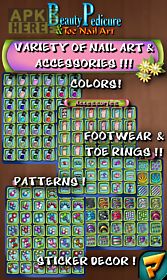 Beauty pedicure nail art salon game for android description: A relaxing pedicure at the foot spa!
Followed by a fun toe nails makeover with awesome nail art!
Topped with gorgeous footwear and toe ring accessories!
This is what every girl wants!
!
Get this full app for free!
!
Have fun using all the options in the game.
Nothing to unlock or buy through in app purchase.
Beauty pedicure and nail art salon is an enjoyable game that will keep you entertained for hours with its countless nail decor combos and foot accessories.
Choose from various nail colors fantastic nail pattern designsand awesome nail art sticker toppings to create your own style statement.
Accessorize from a range of footwear and toe rings to add that special touch.
There is much more!
You get to experience an amazing pedicure at the nail salon.
Enjoy this step by step process as you cut file buff...
In a mini game style setting.
And after you are happy with your creation there is a camera for you to capture it as a photo to share it with your friends!
So don 39 t wait!
Indulge in a beautiful feet dressup and makeover that you always wanted!
Features- two in one!
Nail art salon plus pedicure- variety of awesome nail colors patterns stickers and decor options- a charming range of footwear and accessories- facility to take photo of your creations and store it for sharing with friends- step by step manicure process for a fun salon experience- full free game!!
No in app purchase required.
All items are available for use.

Related Apps to Beauty pedicure nail art salon