Bangladesh railway for Android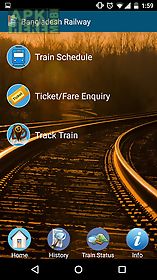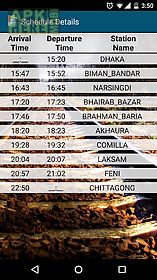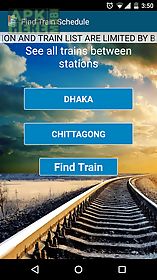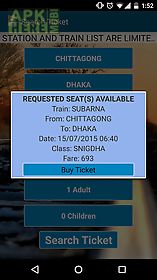 Bangladesh railway app for android description: Bangladesh railway mobile application has been developed to ensure easier access to the services offered by bangladesh railway.
You want to know a train ticket availability or current location status or even the train delay time this application is help you to do all those.
The key features of the application are : detail train schedules train ticket availability status check the availability of a train on a particular date.
Gt search query ( except date and passenger count ) is saved for future train tracking ( depends on tracking request of other trains ) locate the listed popular intercity train departure time from the origination station what is the next station and the distance of that from current position what is the next stoppage and the distance of that from current position you will know how much delay is the train from its actual schedulekeep up with us.
Web app version : projects.
Train tickets n.
B : - this is not the official application from bangladesh railway.
- Train tracking feature is depended on the respective telecom operators 39 service - availability status is depended on the bangladesh railway online ticketing portal.
We try our best to provide the most accurate information for each feature but as it is not the official app data accuracy can not be guaranteed.
We will not be held responsible for any loss or damage done with the usage of this application.
Faq : - dual sim mobiles slot 1 sim will be used to send sms for train tracking.

Related Apps to Bangladesh railway