Baby sounds free for Android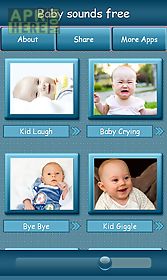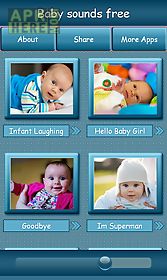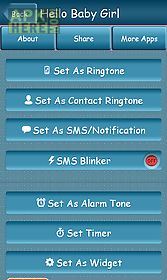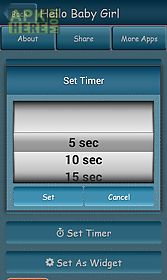 Baby sounds free app for android description: If you are hunting for some cute ringtones for your android phone or want to calm a crying baby look no further check baby sounds free app.
Your baby is crying or you want to lull your child to sleep? Try using baby ringtones and bring this cute baby app everywhere you go.
Just play free tones on your android and relax yourself along with your kids.
In this cool baby app you will find different baby laughing ringtone such as crying laughing or talking.
All noises in this app are original everyday sounds of babies.
You will find it useful both for you and your newborn.
You don t have a kid just want to win some girl s or boy s heart see heads turn when your phone starts ringing? If you like baby language and tones download app now.
If you think that baby talking is one of the sweetest things in the world check our app free 2015 and find soothing sounds.
If you want to make baby sleep set them as sms or contact ringtones.
Baby sound app is good to have at hand.
On the other hand this app is great for babies and toddlers because all new ringtones and notifications are cute and funny.
Sounds for newborns and music will help you turn your device into an entertainment on the go and customize it with best message ringtones for free.
Baby sounds free features: set as ringtone assign to contacts set as alarm and timer sound set as sms ringtone set as widget save share on social networks or email soundslicense: sounds used in baby sounds free app are under public domain or creative commons license credited in the app where appropriate.
For any questions or concerns regarding license please contact us atbluewavesapps.
Please report bugs.
If you have any questions suggestions request or comments do not hesitate to contact us at bluewavesapps.

Related Apps to Baby sounds free