Autogenes einschlafen for Android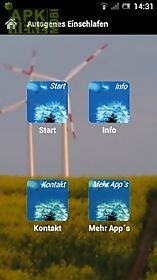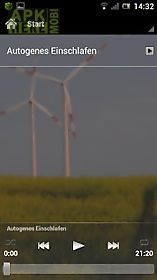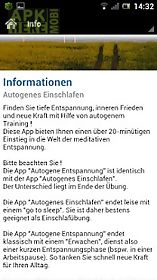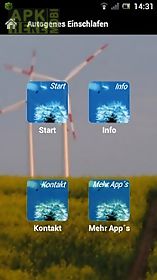 Autogenes einschlafen app for android description: finden sie tiefe entspannung inneren frieden und neue kraft mit hilfe von autogenem training!
Diese app bieten ihnen einen ber 20 min tigen einstieg in die welt der meditativen entspannung.
Bitte beachten sie!
Die app autogenes einschlafen ist identisch mit der app autogene entspannung.
Der unterschied liegt im ende der bung.
Die app autogenes einschlafen endet leise mit einem go to sleep.
Sie ist daher bestens geeignet als einschlaf bung.
Die app autogene entspannung endet klassisch mit einem erwachen dienst also einer kurzen entspannungsphase (bspw.
In einer arbeitspause).
So tanken sie schnell neue kraft f r ihren alltag.
Find deep relaxation inner peace and new strength with the help of autogenous training!
This app provide you with a more than 20 minute introduction to the world of meditative relaxation.
Please note!
The app autogenic sleep is the same as the app autogenic relaxation.
The difference is in the end of the exercise.
The app autogenic asleep ends quietly with a go to sleep.
It is ideal as an einschlaf bung.
The app autogenic relaxation ends with a classic awakening thus serving a short relaxation phase (eg during a break).
How to quickly gain new strength for your everyday life.

Related Apps to Autogenes einschlafen