Anti-stress exercise for Android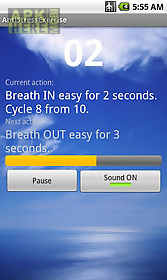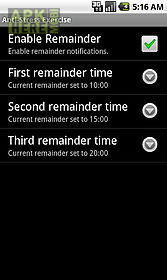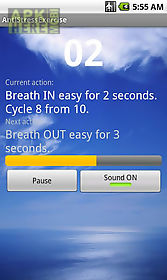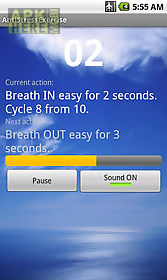 Anti-stress exercise app for android description: This is a breathing exercise to reduce stress.
You need to follow the instructions on the screen and breathe accordingly.
It contains a reminder that can be set to notify you three times a day when it 39 s time to exercise.
Why to use this exercise? Use this exercise primarily if you are in state of stress when you have rapid heartbeat dried mouth and chest pain but you can use it every day for prevent protection of your health.
How to use tips: breathe shallowly to the stomach through the nose shoulders are not allowed to move while breathe.
This is also called diaphragmatic breath.
Do not breathe deeply and rapidly or too strong because you will provoke even more heart palpitations.
You need to sit or lie down comfortably.
Exercise backgroundthe standard hyperventilation follow all fear and panic and resulting in heart palpitations shortness of breath dizziness and chest pain.
This exercise will balance the ratio of o2 and co2 in the blood.
Settingssettings are available thorough options menu.
This exercise is idealy to do three times a day.
Because of that there are remainder that can be enabled and set to any three periods of the day when you are available to do exercise.
Remainder will be show as notification at notification bar.
If you don 39 t do exercise when you are notified remainder will not bother you with next notifications unless you manually go to application and finish your exercise.
Exercise flow1 take an easy breath for 3 seconds2 keep your breath 10 seconds3 breath in easy for 3 seconds.
4 breath out easy for 3 seconds.
3 and 4 repeat 10 cycles.
5 go from 1 4 for 2 more times.

Related Apps to Anti-stress exercise