Animals encyclopedia smart app for Android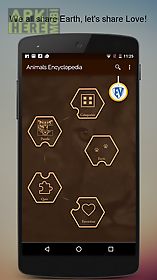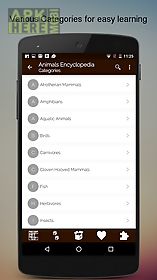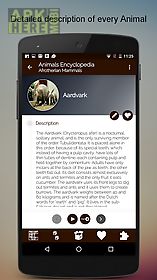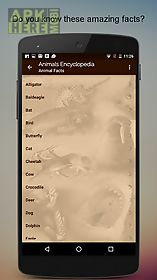 Animals encyclopedia smart app app for android description: Animal encyclopedia is an amazing animal guide with interesting facts related to their weight classification behaviour habitat conservation etc.
With more than 4000 entities this animal guide is very useful and handy for the animal lovers.
Enjoy an amazing journey into the world of animals with all new facts related to them.
Animal encyclopedia is divided strategically into amphibians anthozoa aquatic animals birds centipedes fish insects joint legged insects lissamphibians mammals marine animals molluscs reptiles sea urchins snails slugs spongiae vert.
Not only this you will have an access to description habitat scientific name lifespan weight diet conservation status family and many more.
All your queries will be answered here with this easy to use pocket guide.
Features: facts: cool facts about animals with a single touch.
Puzzle: tired of reading? Take some time off and play some puzzles.
Contribute: if you have something that we don t.
Please do contribute and we will showcase it.
Edubank: save what you want to recall later.
Quiz: test your learning with our quiz.
We love to hear from you.
Please leave a feedback so we can make our animal app how you want them to be.
So what are you waiting for get unlimited access to animal kingdom with animals encyclopedia.

Related Apps to Animals encyclopedia smart app