Ambulance baby doctor for Android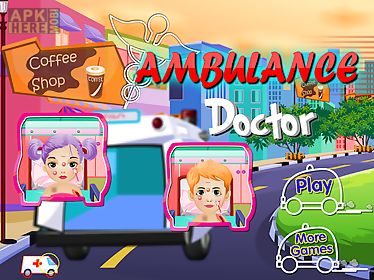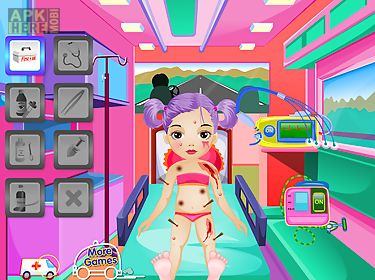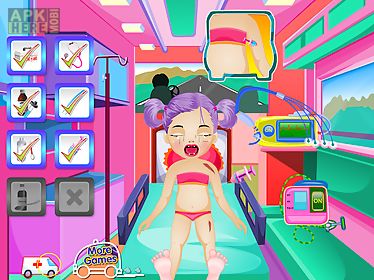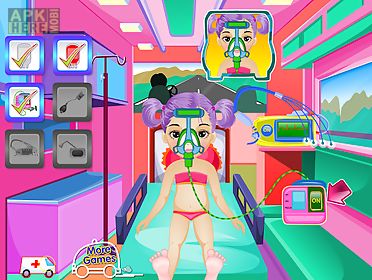 Ambulance baby doctor game for android description: One afternoon i was in the park in front of the building where i play with my friends.
Suddenly i saw a boy fell and hit very badly.
Then i ran to him and i thought to call the ambulance.
Inside the ambulance will have to help us take care of this boy.
You must remove all traces of the boy 39 s blood on the hands feet or face using compresses.
After you finish erasing we must put a stethoscope and listen to his heartbeat.
After that we must put some eye drops as this boy hit his eyes and can not see very well at the moment.
With tweezers you 39 ll have to remove all the thorns that child has in hand feet and his abdomen.
Using a special solution you 39 ll clean wounds and bruises and i 39 ll make an injection into a vein to prevent infection then you 39 ll give a drinking syrup for mouth disinfection as blood flowed from his mouth.
You must choose a bandage and apply it on his wounds but carefully because it hurts and we do not want him to cry.
Because he lost much blood we will administer an iv and then we will put an oxygen mask on his face so he can breathe easier.
We will mesure the blod presure and we provide heart monitoring device.
It seems that the baby feels better before reaching the hospital which means that we are very good.
Controls: use your finger to play this doctor game this apps is free and safe for installing.

Related Apps to Ambulance baby doctor