Agent dash for Android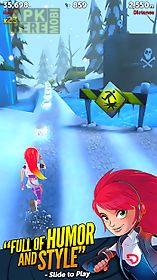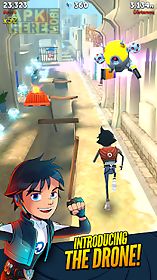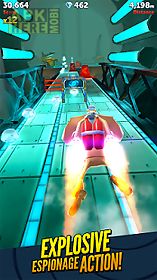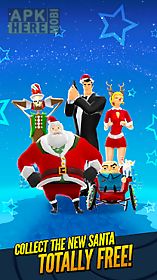 Agent dash game for android description: run for queen countrythe ultimate spy blockbuster!
Enjoyed by over 20 million players sneak into the top secret action game from the makers of flick golf all star quarterback flick soccer.
Its the most intense explosive running game that you can squeeze into your phone!
The pinnacle of the genre pocket gamerdash another day take control of the audacious agent dash or one of a huge cast of heroes villains including the queen!
The visuals are incredibly vibrant appspymission improbable your mission should you choose to accept it is to defeat dashs nefarious arch nemesis dr.
Quantumfinger.
Hes worse than a megalomaniac hes a superlomaniac!
License to run sprint through the stunning world of quantumfingers secret island lair avoiding fiendish traps pitfalls.
Collapsing buildings lazers lava and more will block your path but theyre no match for dash!
The design is impeccable app advicegadgets galore collect jetpacks magnets cloaks and even slow down time!
Upgrade gadgets back at base and get the tools to foil any evil plot.
Features massive update for 2015 perfect tap swipe controls twisting levels with dramatic ups downs explosive action infiltrations escapes new characters with outfits perks next gen graphics awesome audio inspired by classic spy movies full hd resolutionjoin the full fat community visit: like: fullfatgamesfollow: fullfatgamessubscribe: fullfatgamessupport: supportnew game engine new tech means that we can create even more cool content for the game faster than ever before!
Get ready for new characters gadgets community features more in future updates.
Follow fullfatgames on social media to be the first to get the latest news!
Please continue to rate and review the game.
We read every comment to help us to create the games that you want!

Related Apps to Agent dash