Adomicilioya.com - order food for Android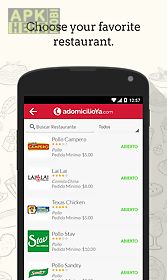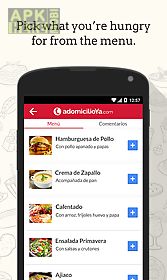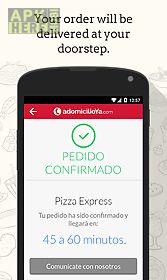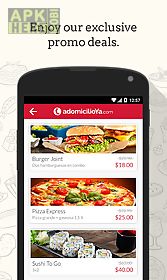 Adomicilioya.com - order food app for android description: Are you hungry? Good!
We have the solution right here.
Order food at over 300 restaurants with delivery services throughout ecuador pick from different types of cuisines like chicken pizza hamburgers grill sushi you decide!
Who knew ordering food online was so easy maybe too easy!
Find your city: quito guayaquil cumbay cuenca tulc n valle de los chillos ambato ibarra and more.
How does it work? - Download our free app- find your favorite restaurant- pick what you re hungry for from the menu...
And enjoy!
Your food is cooked and delivered instantly at your doorstep new features: - new seamless design and better coverage in ecuador.
Ordering food will take you a few seconds with gps localization.
- Now it s easier to look for your favorite dishes with our new search bar and our product images feature.
Chicken pizza hamburgers sushi or maybe a delicious grill? You wont miss a thing!
- Keep track of our fantastic promo deals in the promos section.
- Get in contact with our costumer care team right away with our new chat feature.
- Rate your ordering experience by writing comments giving the opportunity to other user to read and pick for them selves.
Why pick ? Find always the best deals and discounts from your favorite restaurants in ecuador.
Enjoy the deals of chicken pizza hamburgers sushi and even grill to order food from delivery services without leaving your home in we offer the possibility of ordering food through a delivering service that we provided from all the different restaurants witin the city.
This platform appears in a national level a gathers varias restaurants to offer a great variety of food to our users.
Quot.
Ecdo you have questions about your order? Write us: atencionalcliente : easier faster and no additional cost.
What are you waiting for? Start now!

Related Apps to Adomicilioya.com - order food